Hospitality Relief Efforts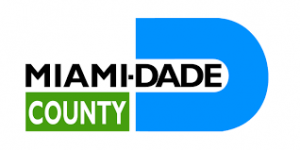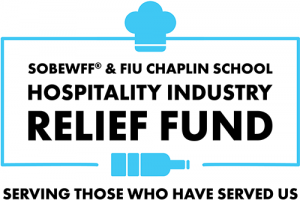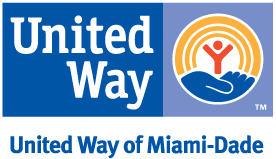 On August 4, 2020, as part of the Miami-Dade County Business Grant Program, Miami-Dade County Mayor Carlos A. Gimenez provided the Fund with a $5 million grant, to be earmarked and distributed to eligible hospitality employees who work in Miami-Dade County.
As a result, this next round of funding will specifically support employees of independently owned and operated restaurants, hotel restaurants, bars, and caterers in Miami-Dade County whose businesses have been significantly impacted during the COVID-19 pandemic.
As of October 14, 2020 we are no longer accepting applications for this grant.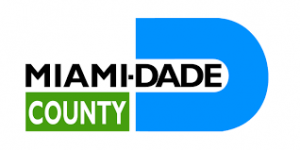 Miami-Dade County Hospitality Industry Grant program
This program provides financial assistance to local independently owned and operated restaurants and non-home-based caterers impacted by COVID-19.
Click here to view press release
For the specific rules of the application process and to apply, click here.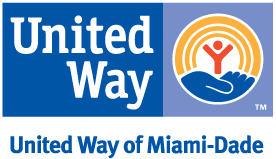 Click here to view our message to our members and partners
MIAMI PANDEMIC RESPONSE FUND
To support this rapidly escalating need, United Way of Miami-Dade and the Miami Herald/el Nuevo Herald have launched the Miami Pandemic Response Fund.  The fund will support struggling families with emergency needs including rent/mortgage assistance, food, medication and utilities as well as issue micro-grants to small businesses.
In this time of need, the community is urged to join this initiative and support each other by donating to the fund through Operation Helping Hands. The funds will aid families and small businesses through a network of nonprofit partners responding to the unprecedented economic impacts of COVID-19 pandemic.
Health Foundation of South Florida, The Miami Foundation, Greater Miami Convention and Visitors Bureau, The Frederick A. DeLuca Foundation, BJ's Charitable Foundation, and Wells Fargo have joined United Way in providing seed funding of over $600,000 to address the short-term impacts on vulnerable families and small businesses as well as build long-term economic resilience in Miami-Dade. Funds will be released on a rolling basis as fundraising continues throughout the pandemic outbreak and recovery phases of the crisis.
Helping Miami Families and Small Businesses
Together, we help our community weather any kind of storm, from hurricanes to viruses, we stand for a #StrongerMiami. Once again, Operation Helping Hands is providing the people of South Florida a way to extend a helping hand to their neighbors in need.
To make a donation you can:
Call 1-800-226-3320
Give via Venmo @UnitedWayMiami
Give via Paypal at https://www.paypal.com/fundraiser/charity/2169193
For more information, contact caring@unitedwaymiami.org
Click here for more information

F+B Hospitality Needs Your Support!
F+B Hospitality has teamed up with the community to support those from the South Florida restaurant industry who have been inpacted by the Covid-19 closures by creating the Miami Restaurant Employee Relief Fund.
Together, and with the insights of notable Miami-are chefs led by Brad Kilgore of Kilgore Culinary and joined by Michael Schwartz of Michael's Genuine, Michelle Bernstein of Michy's and La Trova and Zak H Stern of Zak the Baker they will be raising awareness and fund to provide grants to full-time restaurant workers in Miami-Dade county who are dependent on wages to cover basic living expense and provide for their families.
How it Works...
The goal is to provide $250 grants to as many qualifying grantees as possible with 100% donations going directly to those affected.
F+B Hospitality is asking for those who are able, to consider making a donation to support the thousands of individuals and families that need financial help during this time. Any amount helps.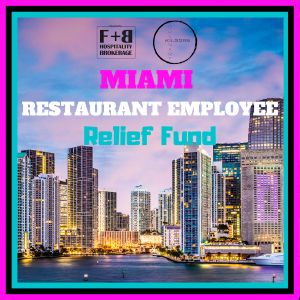 Donate now!
Help people in your community in their time of need. $250 can make a difference now.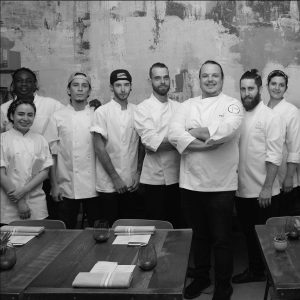 Apply for Grant!
If you meet the requirements below please click the link to fill our an application form.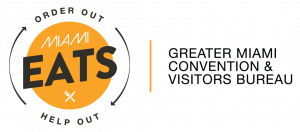 Due to the Coronavirus pandemic and its dramatic impact on the hospitality industry, the Greater Miami Convention & Visitors Bureau (GMCVB) has launched MIAMI EATS - a new program to help our restaurants and their employees during this crisis.
Now more than ever they need our support so we are asking all Greater Miami residents to please consider ordering out when possible. In turn, many of these restaurants are offering special deals. While there are many great food delivery services available, we are also encouraging everyone to please call the restaurants directly. Check back often for updates.
VIEW ALL RESTAURANTS IN A DETAILED INTERACTIVE LIST OR A SIMPLE PRINTABLE LIST.
For more information please visit https://www.miamiandbeaches.com/miamieats

Walmart and the Walmart Foundation Commit $25 Million to Global COVID-19 Response Effort
To help meet the critical needs resulting from the global COVID-19 pandemic, Walmart and the Walmart Foundation have committed $25 million to support organizations on the front lines responding to the outbreak.
Click here to read more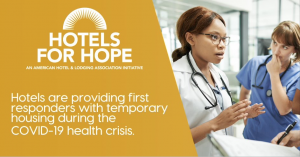 In an effort to support communities across the country during this unprecedented public health crisis, AHLA announced a new initiative - Hotels for Hope - to connect hotel properties with the health community, struggling to find housing and support as the COVID-19 public health crises grows.
Click here for more information