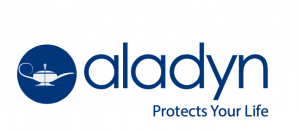 The hospitality industry is commencing to open again, however, this will be a gradual process and we will have to comply with certain protection and hygiene measures to avoid future contagions.
That is why it is of great importance that your company has a sufficient and timely supply of personal protective equipment so that your employees and clients are protected and your business operates in the best possible way.
Do not make panic purchases, paying exorbitant prices, and risking not receiving the products you need in a timely manner.
Aladyn specializes in servicing companies in the tourism and hospitality sector, offering to the members of GMBHA a wide selection of high-quality Personal Protective Equipment (PPE) through a system of scheduled purchases, as well as specialized consulting, personal service, and the best prices.
Aladyn offers you everything you need to be protected and safe:
Masks 
Gloves  
Medical Goggles
Facial Shields
Medical Protective Clothing
Hand Sanitizers
Disinfection Products
Hi-Tech Equipment
Social Distancing Equipment
And much more...
SPECIAL PROMOTION FOR GMBHA MEMBERS:
1 Protection System Consulting session free
and 5% off in your first purchase
Contact us, and we will develop a comprehensive and customized Protection Systems according to the needs of your business, providing you solutions to protect the health of the employees and guests, and at the same time optimizing the resources and operation of your business.
Professional PPE Supply for the Hospitality Industry
 Sales & Information:
+1 (305) 793-4964
GMBHA Members COVID-19 eNewsletter Archives:
---
________________________________
To be featured in our monthly eNewsletter, please reach out to Monica Walker, Membership Sales & Relations Manager at Monica@gmbha.com


Miami Herald Media Company Connects Families and Businesses with the Support They Need

While the Miami Herald and el Nuevo Herald work around the clock to provide trusted local news coverage of the COVID-19 pandemic, the Miami Herald Media Company has launched three initiatives to assist individuals, families and small businesses. The free
Local Business Directory is a dedicated section of MiamiHerald.com where small businesses and other organizations can provide essential information, such as hours of operation and available services, to reach out and stay in touch with their customers. As businesses look for ways to generate support from their local community, companies are encouraged to list their information and let customers know they are open for business. 
A second initiative is People Helping People, a resource for those who require assistance, as well as those who can provide it.  Respondents will be connected so that local volunteers can help serve individual needs.
Finally, United Way of Miami-Dade and the Miami Herald/el Nuevo Herald have activated the Operations Helping Hands Miami Pandemic Response Fund. The fund addresses the emergency needs of working families, including rent/mortgage assistance, food, medication and utilities, and issues micro-grants to small businesses. The Miami Foundation, Greater Miami Convention and Visitors Bureau and The Health Foundation of South Florida and others have also joined this effort, providing seed money now reaching $2.1 million to respond to current community needs. 
For details on how to get your business listed in the Miami Herald and el Nuevo Herald, visit the Local Business Directory now.
Shorecrest Construction always has been committed to safety with exceptional craftsmanship to help keep your employees and guests safe.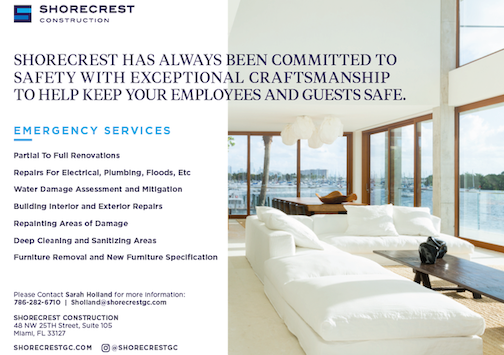 Emergency Services include:
Partical To Full Renovations
Repairs For Electrical, Plumbing, Floods, Etc
Water Damage Assessment and Mitigation
Building Interior and Exterior Repairs
Repainting Areas of Damage
Deep Cleaning and Sanitizing Area
Furniture Removal and New Furniture Specification
For more information please contact Sarah Holland at Sholland@shorecrestgc.com or 786-282-6710

As our healthcare system faces an unprecedented level of need, Towne Health is committed to being a trusted partner for your patients and caregivers, ensuring your hospital has the resources to provide the highest level of care in the most effective, safe and flexible environment. The new Towne Health service offerings include:
Valet Screeners
Greeter Screeners.
Sanitizing Services/Light Maintenance Ambassadors.
Internal Patient Transport (IPT).
Patient Sitting Ambassadors (PSAs).
Click here to view the full document on Proven Healthcare Resources & Expert Solutions to Support Your Evolving Needs.

On April 23, 2020, the Equal Employment Opportunity Commission ("EEOC") updated its Technical Assistance Q&A Guidance relating to COVID-19 and the Americans with Disabilities Act ("ADA") to clarify that employers are permitted to administer mandatory COVID-19 tests on employees before allowing them to enter the workplace without violating the ADA's prohibition against medical examinations.  This update can be found at question A.6. of the guidance. In doing so, the EEOC reasoned that such testing meets the ADA's requirement that mandatory employee medical examinations be "job related and consistent with business necessity," because an employee entering the workplace with COVID-19 "will pose a direct threat to the health of others" within the work environment.
If you or one of your clients has any questions regarding the new EEOC guidance outlined above, please reach out to a member of the Labor & Employment practice group for assistance. https://shutts.com/
AAA Flag & Banner is here to help you open safely. Products to help keep your staff and customers safe.