The Florida Small Business Emergency Bridge Loan Program is currently available to small business owners located in all Florida counties statewide that experienced economic damage as a result of COVID-19.
The Florida Department of Economic Opportunity is now offering a Business Damage Assessment Survey intended to gather data about how your business is being affected by the outbreak of COVID-19—also known as the Novel Coronavirus—and to indicate to the State of Florida the programs that you are interested in to assist you as your business endures this incredibly difficult time.
Survey: https://floridadisaster.biz/BusinessDamageAssessments
Additionally, Governor Ron DeSantis has activated the Florida Small Business Emergency Bridge Loan Program, which is also managed by the Florida Department of Economic Opportunity. Applications will be accepted through May 8th.
Loan Details
Designated Disaster Areas: All Florida counties statewide per Executive Order 20-52.
Qualified Applicant: Applications will be accepted by qualified for-profit, privately held small businesses that maintain a place of business in the state of Florida. All qualified applicants must have been established prior to March 9, 2020, and suffered economic injury as a result of the designated disaster. Qualified small business applicants must be an employer business with 2 to 100 employees.
Amount: Up to $50,000 per eligible small business.  Loans of up to $100,000 may be made in special cases as warranted by the need of the eligible small business.
Term: 1 year.
Limitation: Only one loan may be made per eligible business. All previous bridge loans received MUST be paid in full.
Interest Rate: Loans will be interest-free for the loan term (1 year). The Interest rate will be 12% per annum on the unpaid balance thereafter, until the loan balance is repaid in full.  Loan default is subject to a normal commercial collection process.
Application Period: Applications will be accepted by qualified Florida small businesses under this program through May 8, 2020, contingent on the availability of funds.
Loan Information & Application:  https://floridadisasterloan.org/
Webinars:
---
STR will be hosting webinars discussing the impact of COVID-19 on U.S. hotel performance every Thursday at 3pm EST, with updates from the prior week's lodging performance.
Every Thursday at 3:00pm
Register here (http://bit.ly/2QpNNFQ)
For daily updates and previous recording please visit STR's website at https://str.com/data-insights-blog/coronavirus-hotel-industry-data-news
---
Vortex will be hosting free 30-minutes webinars which include four unique topics over a two-week period to help you with your next water attractions project.  Themes include Innovation and Trends in Product Design and Play, Sustainability, Water Management and Pool Refurbishment.
Click here to reserve your seat!
---
Treasury, IRS and Labor announce plan to implement Coronavirus-related paid leave for workers and tax credits for small and midsize businesses to swiftly recover the cost of providing Coronavirus-related leave
IR-2020-57, March 20, 2020
WASHINGTON — Today the U.S. Treasury Department, Internal Revenue Service (IRS), and the U.S. Department of Labor (Labor) announced that small and midsize employers can begin taking advantage of two new refundable payroll tax credits, designed to immediately and fully reimburse them, dollar-for-dollar, for the cost of providing Coronavirus-related leave to their employees. This relief to employees and small and midsize businesses is provided under the Families First Coronavirus Response Act (Act), signed by President Trump on March 18, 2020.
·         Paid Sick Leave for Workers
For COVID-19 related reasons, employees receive up to 80 hours of paid sick leave and expanded paid child care leave when employees' children's schools are closed or child care providers are unavailable.
·        Complete Coverage
Employers receive 100% reimbursement for paid leave pursuant to the Act.
Health insurance costs are also included in the credit.
Employers face no payroll tax liability.
Self-employed individuals receive an equivalent credit.
·        Fast Funds
Reimbursement will be quick and easy to obtain.
An immediate dollar-for-dollar tax offset against payroll taxes will be provided
Where a refund is owed, the IRS will send the refund as quickly as possible.
·        Small Business Protection
Employers with fewer than 50 employees are eligible for an exemption from the requirements to provide leave to care for a child whose school is closed, or child care is unavailable in cases where the viability of the business is threatened.
·        Easing Compliance
Requirements subject to 30-day non-enforcement period for good faith compliance efforts.
To take immediate advantage of the paid leave credits, businesses can retain and access funds that they would otherwise pay to the IRS in payroll taxes. If those amounts are not sufficient to cover the cost of paid leave, employers can seek an expedited advance from the IRS by submitting a streamlined claim form that will be released next week.
Examples
If an eligible employer paid $5,000 in sick leave and is otherwise required to deposit $8,000 in payroll taxes, including taxes withheld from all its employees, the employer could use up to $5,000 of the $8,000 of taxes it was going to deposit for making qualified leave payments. The employer would only be required under the law to deposit the remaining $3,000 on its next regular deposit date.
If an eligible employer paid $10,000 in sick leave and was required to deposit $8,000 in taxes, the employer could use the entire $8,000 of taxes in order to make qualified leave payments and file a request for an accelerated credit for the remaining $2,000.
Equivalent child care leave and sick leave credit amounts are available to self-employed individuals under similar circumstances. These credits will be claimed on their income tax return and will reduce estimated tax payments.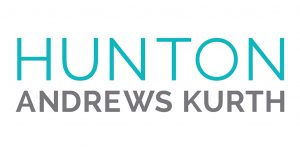 The insurance coverage lawyers at
Hunton Andrews Kurth
are helping several hospitality clients explore insurance coverage for COVID-19 related losses.
Key issues to consider for business interruption insurance coverage are: (1) has the government issued orders requiring your business (or a part of your business) to shut down due to the virus; and (2) has there been a confirmed infection at your property (a staff member, guest, or other). Properties may also have event cancellation coverage to help cover losses due to cancellation of large scale events or meetings. However, every insurance policy is different and some may contain problematic exclusions that should be reviewed with counsel.
The Hunton team has put together the attached articles and alerts on these insurance issues for GMBHA members. They have also created a resource page here. You can also find recent blog posts on event cancellation insurance coverage, key coverage issues in COVID-19 losses, and the first COVID-19 insurance coverage suit (brought by a restaurant in Louisiana against Lloyds of London) here https://www.huntoninsurancerecoveryblog.com 
If you have additional questions or would like to speak with the team about their services, please contact:
Walter Andrews
Partner, Head of Insurance Coverage Practice Group
Hunton Andrews Kurth LLP
1111 Brickell Avenue, Suite 2500
Miami, FL  33131
+1 305 810 6407
wandrews@HuntonAK.com

Miami Herald Media Company Connects Families and Businesses with the Support They Need

While the Miami Herald and el Nuevo Herald work around the clock to provide trusted local news coverage of the COVID-19 pandemic, the Miami Herald Media Company has launched three initiatives to assist individuals, families and small businesses. The free
Local Business Directory is a dedicated section of MiamiHerald.com where small businesses and other organizations can provide essential information, such as hours of operation and available services, to reach out and stay in touch with their customers. As businesses look for ways to generate support from their local community, companies are encouraged to list their information and let customers know they are open for business. 
A second initiative is People Helping People, a resource for those who require assistance, as well as those who can provide it.  Respondents will be connected so that local volunteers can help serve individual needs.
Finally, United Way of Miami-Dade and the Miami Herald/el Nuevo Herald have activated the Operations Helping Hands Miami Pandemic Response Fund. The fund addresses the emergency needs of working families, including rent/mortgage assistance, food, medication and utilities, and issues micro-grants to small businesses. The Miami Foundation, Greater Miami Convention and Visitors Bureau and The Health Foundation of South Florida and others have also joined this effort, providing seed money now reaching $2.1 million to respond to current community needs. 
For details on how to get your business listed in the Miami Herald and el Nuevo Herald, visit the Local Business Directory now.

Letter to request technical assistance to small businesses
As a Frontline Community Partner you will be providing services you already deliver to help small businesses survive and grow in these challenging times, via a centralized coordinated effort. Our collective action will address immediate and on-going recovery needs, critical to the survival of our small businesses.
Assuming all your information has been received, you have been activated and are included in the BizHelp.Miami website. For reference, following are activation steps.
1. Frontline Partner provides information (org. name, contact person, e-mail address, services offered) which is placed on the new portal with key words
2. Businesses are matched with organizations based on need and key word search on the new BizHelp.Miami website.
3. Businesses receive matching organizations' name, link, contact e-mail, and service description
4. Frontline Partners assist businesses with their need
5. Frontline Partners provide quick feedback on # of clients helped (link to be provided)
Click here to view the full flyer.
Shorecrest Construction always has been committed to safety with exceptional craftsmanship to
help keep your employees and guests safe.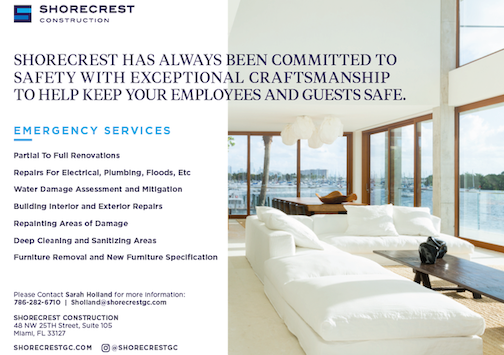 Emergency Services include:
Partical To Full Renovations
Repairs For Electrical, Plumbing, Floods, Etc
Water Damage Assessment and Mitigation
Building Interior and Exterior Repairs
Repainting Areas of Damage
Deep Cleaning and Sanitizing Area
Furniture Removal and New Furniture Specification
For more information please contact Sarah Holland at Sholland@shorecrestgc.com or 786-282-6710

As our healthcare system faces an unprecedented level of need, Towne Health is committed to being a trusted partner for your patients and caregivers, ensuring your hospital has the resources to provide the highest level of care in the most effective, safe and flexible environment. The new Towne Health service offerings include:
Valet Screeners
Greeter Screeners.
Sanitizing Services/Light Maintenance Ambassadors.
Internal Patient Transport (IPT).
Patient Sitting Ambassadors (PSAs).
Click here to view the full document on Proven Healthcare Resources & Expert Solutions to Support Your Evolving Needs.

On April 23, 2020, the Equal Employment Opportunity Commission ("EEOC") updated its Technical Assistance Q&A Guidance relating to COVID-19 and the Americans with Disabilities Act ("ADA") to clarify that employers are permitted to administer mandatory COVID-19 tests on employees before allowing them to enter the workplace without violating the ADA's prohibition against medical examinations.  This update can be found at question A.6. of the guidance. In doing so, the EEOC reasoned that such testing meets the ADA's requirement that mandatory employee medical examinations be "job related and consistent with business necessity," because an employee entering the workplace with COVID-19 "will pose a direct threat to the health of others" within the work environment.
If you or one of your clients has any questions regarding the new EEOC guidance outlined above, please reach out to a member of the Labor & Employment practice group for assistance. https://shutts.com/
AAA Flag & Banner is here to help you open safely. Products to help keep your staff and customers safe.
On behalf of the GMCVB's Multicultural Tourism & Development Department and the Tourism Business Enhancement program,
please refer to the following resources that may assist your business.

NMCRA Board Approves New Residential Aid Program and an Additional $600,000 for the Jump Start Businesses Grant
CLICK HERE TO ACCESS THE APPLICATION
NORTH MIAMI, FL. - (May 12, 2020) - To provide necessary funding to residents and businesses during the ongoing COVID-19 crisis, the North Miami Community Redevelopment Agency (NMCRA) Board today approved unanimously a New Renters Assistance Program, which will distribute $1,000,000 to qualified North Miami residents to cover up to two months' rent. Only residents within the North Miami CRA boundaries can apply and must submit applications no later than May 29th at 2 p.m. to be considered. Online applications are available via emailcgrants@northmiamifl.gov and paper applications are available for pick-up at the Joe Celestin Center in North Miami. The Board also approved additional funding for another 120 businesses (240 total) to receive the Emergency Relief to Jump Start Businesses, a program providing grants up to $5,000 to businesses within the North Miami CRA to revitalize their operations once the emergency declaration has been lifted.
For applicants to see if they are located within the North Miami CRA  boundary and are eligible to apply, click here: https://arcg.is/1eTPem. Businesses interested in any of the NMCRA relief programs, should contact cragrants@northmiamifl.gov or 305-895-9839 to receive instructions on how to complete the applications.
First, the North Miami CRA created the $1,000,000 New Renters Assistance Program to cover up to two months' rent for qualified residents within the NMCRA boundaries who cannot afford to pay due to circumstances related to the coronavirus pandemic. Applicants must reside in the city for one calendar year, show proof of negative impact by COVID-19 by loss of job or benefits, and provide the landlord's contact information since the payment will be made to them directly. To request an online application, interested parties should email cragrants@northmiamifl.gov. Paper applications will be available for pick-up starting Wednesday, May 13th, at 9:00 a.m. at the Joe Celestin Center (1525 NW 135th Street, North Miami, FL). Due to the high volume of interest, applicants will be chosen at random based on a lottery-style selection.
"During this time of crisis, the North Miami CRA is working tirelessly to offer both residents and businesses alike a reprieve on their financial burdens while they wait for other benefits to materialize," says North Miami Mayor Philippe Bien-Aime, Chairman of the North Miami CRA Board. "We also understand that small businesses are the backbone of a thriving economy, so providing additional funding for our emergency commercial aid programs will allow even more North Miami businesses to be prepared for a quick recovery when the time comes."
In addition to the New Renters Assistance Program, the NMCRA Board also approved another $600,000 in funding for an additional 120 businesses (240 total) to receive the Emergency Relief to Jump Start Businesses. This one-time grant provides up to $5,000 to businesses only within the North Miami CRA boundaries for future operational expenses, including: rent, payroll, communications, utilities, etc. Funds will come into effect once the disaster declaration has been lifted, but small businesses can apply for the loan immediately athttps://portal.benevate.com/northmiami/participant. Candidates must have been denied for the U.S. Small Business Administration (SBA) Disaster Loan and Florida Disaster Loan programs. It is necessary for applicants to provide documentation of the application with receipt.
The NMCRA previously awarded 50 North Miami businesses with grants up to $1,000 through the Emergency Relief for Essential Businesses Program. This funding is helping existing small businesses deemed essential by Miami-Dade County and the City of North Miami Offices of Emergency Management to continue limited operations during the public health emergency.
Miami Hospitality Center presents two online, no cost, six-week classes from 9 AM - 1 PM, Monday through Friday on Culinary & Catering Employment Training May 18 to June 26, 2020
& Guest Service Specialist Employment Training from October 15 to December 21, 2020
Learn more on their website here