Greater Miami Travel Guidelines & Destination Pledge
The Greater Miami & Miami Beach Destination Pledge
Greater Miami is taking steps to help stop the spread of the coronavirus and keep visitors and residents healthy. Throughout various tourism touch points in the destination, partners are pledging to adhere to the highest standards for mitigation of communicable diseases to help reduce the spread of the COVID-19.
The Greater Miami & Miami Beach Destination Pledge is being implemented at several tourism touch points throughout the community including at Miami International Airport and PortMiami as well as local attractions, museums, hotels, retail and dining establishments.
#FoundinMiami  #TravelResponsibly
Miami-Dade County COVID Guidelines
There is currently no curfew in Miami-Dade County.
Revised Business Guidelines & Industry Recommendations are provided in the COVID Safety Guidelines, A Guidebook for Residents and Commercial Establishments which includes recommendations and best practices for Hotel and Lodging, Food and Beverage (Restaurants), Parks and Outdoor Recreation and Entertainment, and Meeting Venues.
Masks/Facial Coverings
There is currently no mask mandate in Miami-Dade County, however we do encourage you to be safe! Kindly wrap your face and practice social distancing when you are exploring our beautiful tropical paradise!
A federal mask mandate remains in place for Miami-Dade County public transit, Miami International Airport and PortMiami.
Local businesses and government buildings are no longer mandated to require COVID safety precautions including masking. However, we urge our community to continue using common sense to prevent the spread of the virus and to treat those around you, particularly in public spaces, with respect by encouraging to wear your mask when around those outside your household.
The GMCVB's 'Stay Safe Wrap Your Face, Vacation Responsibly', campaign brings awareness to the importance of mask use while enjoying the destination.  The creative marketing campaign is designed to educate visitors on the use of masks to prevent the spread of the COVID-19 virus, prioritizing COVID safety by stressing to visitors that to vacation responsibly, you must wear protection.
#StaySafeWrapYourFace
Vacation Responsibly
Hotels are Open
Hotels in Greater Miami are open for business however visitors are encouraged to call their hotel directly to confirm level of operation as well as specific guidelines to follow while on property.
Under Covid Safety Guidelines, hotels are encouraged to do the following:
Minimize shared touch surfaces such as kiosks, tablets, pens, credit cards, receipts, and keys.
Make guest room service, laundry and dry-cleaning services, and amenity deliveries available using contactless pick-up and delivery protocols.
Remove or limit paper amenities in guest rooms and supplement with digital material or make materials available upon request.
Valets should be provided with hand sanitizer and should use sanitizer before and after parking vehicles.
Restaurants are Open
Restaurants are permitted to offer indoor and outdoor dining at up to 100% capacity.
Under Covid Safety Guidelines restaurants are encouraged to do the following:
Encourage no more than six people per table or up to 10 form the same household.
Offer takeout and delivery services.
Offer a QR code to view menus digitally and touchless payment options.
Visit MiamiEats for access to delivery and take out menus for hundreds of restaurants across Greater Miami.
Banquet, Meeting and Convention Spaces
Convention and Meeting Spaces as well as Banquet Facilities are fully open and indoor consumption of food and beverages as well as live performances at these venues is allowed.
Miami Beach and the Miami Beach Convention Center are Fully Open for Business
The Miami Beach Convention Center (MBCC) has developed and deployed health and safety measures to support safe live events and gatherings.
MBCC Ready plans detail the rigorous venue health and safety measures deployed to reduce the risk of transmission and return to live events.
There is a COVID-19 testing and vaccine site near City Hall (first floor of the Pennsylvania Garage on 17 Street and Pennsylvania Ave.) which operates seven days a week from 8 a.m.- 5 p.m. with no appointment necessary.
Travel Information for Visitors to Miami
Air Travel
For the most up-to-date information on travel restrictions, please check with the US Department of State and the CDC Guidance for Travel as guidelines and restrictions continue to evolve.
All air passengers coming to the United States, including U.S. citizens, are required to have a negative COVID-19 test result or documentation of recovery from COVID-19 before they board a flight to the United States. See the Frequently Asked Questions for more information.
Masks are required on planes, buses, trains, and other forms of public transportation traveling into, within, or out of the United States and in U.S. transportation hubs such as airports and stations.
Cruise Travel
Some major cruise lines have reactivated operations while others remain suspended and PortMiami remains operational for cargo business. The CDC has temporarily extended the Frameword for Conditional Sailing Order (CSO) through January 15, 2022.
For your convenience, following are some of Greater Miami's top cruise lines and their updates.
Public Transportation
Masks are always mandatory and to be worn on all public transportation.
General Information Sites
Although international visitors are required to be fully vaccinated, Miami-Dade County will continue to offer free vaccination and testing sites to everyone living in or visiting our County to ensure a safe season.
Miami-Dade County is coordinating closely with hospital and healthcare partners, the Florida Department of Health, municipalities, and private partners including CVS and Walgreens to vaccinate members of our community against the coronavirus (COVID-19) as quickly and efficiently as possible.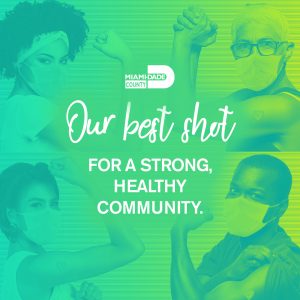 Where can I get vaccinated?
Miami-Dade County
Miami-Dade will be opening a limited number of COVID-19 vaccine appointments for seniors 65+ starting Friday, January 8 at 4 p.m., according to state vaccine guidelines. Check here for an available appointment.