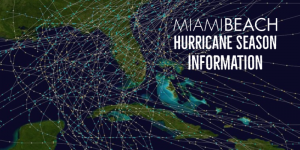 The 2020 hurricane season officially begins today, June 1 and runs through November 30. The City of Miami Beach wants to ensure the safety of all of its residents and visitors, and urges everyone to have a hurricane plan.Visit our hurricane webpage for tips on how to stay safe this hurricane season and watch our hurricane special below, which will also be airing regularly on MBTV (Channel 660 on Atlantic Broadband or Channel 99 on AT&T U-Verse) through the end of November.
Stay Informed
Download the Ready Miami-Dade (Ready MDC) mobile application from the County's Office of Emergency Management, available via Google Play and the App Store store.
Text MBTraffic to 888777 for traffic text updates and then MBAlert to 888777 to receive emergency alerts via text.
Visit www.mbalerts.com to sign-up for text/email/phone call alerts to receive emergency notifications and automatic weather alerts.Register Vulnerable Populations
Is there someone in your family who is unable to evacuate on their own? Maybe they're elderly or have special needs. We encourage you to have them sign up for the Emergency Evacuation Assistance Program (EEAP) provided by Miami-Dade County. Do not wait until an evacuation order is issued, register today at www.miamidade.gov/fire/eeap.asp

Hurricane Forecast 
An above-normal 2020 Atlantic hurricane season is expected, according to forecasters with NOAA's Climate Prediction Center, a division of the National Weather Service. The outlook predicts a 60% chance of an above-normal season, a 30% chance of a near-normal season and only a 10% chance of a below-normal season.
NOAA's Climate Prediction Center is forecasting a likely range of 13 to 19 named storms (winds of 39 mph or higher), of which 6 to 10 could become hurricanes (winds of 74 mph or higher), including 3 to 6 major hurricanes (category 3, 4 or 5; with winds of 111 mph or higher). NOAA provides these ranges with a 70% confidence. An average hurricane season produces 12 named storms, of which 6 become hurricanes, including 3 major hurricanes.
"Atlantic hurricane season doesn't officially start until June 1, but that could soon change. A committee at the National Hurricane Center in Miami, part of the National Oceanic and Atmospheric Administration, is working to decide whether the start date of Atlantic hurricane season should be moved to May 15."
As storms continue to develop earlier every year, now is the time to prepare for this Atlantic hurricane season. Severe disruption events, such as hurricanes, can seriously harm your business operations. If you are responsible for protecting an organization with either one or multiple locations, large or small, and flood infiltration is a concern, Tiger Dam flood control system may be your answer. It is reusable, easy to deploy and easy to store on site, so you are ready at a moments notice.
Reach out for more information or to arrange a demo: cheryl@usfloodcontrol.com
www.usfloodcontrol.com
504-235-5233