The Greater Miami and the Beaches Hotel Association's Sustainable Hospitality Council was created to advance the awareness and adoption of sustainable practices by providing guidance, expertise and resources to Association members. The Council also works to increase visibility of members' sustainability practices in domestic and international markets to promote the Miami hospitality industry's image.
Nancy Scanlon: Council Chair, PhD CHE, Associate Professor; School of Hospitality and Tourism Management, FIU
Peggy Benua: Council Co-Chair, General Manager; Dream South Beach
Jason Hagopian: AIA, LEED AP, Principal; TSAO Design Group 
Michael Hooper: General Manager, Hilton Miami Airport Blue Lagoon
Wendy Kallergis: President & CEO; Greater Miami & the Beaches Hotel Association
Brian Lomel: PE, LEED-AP, CxA, Principal, Sustainability Consultant; TLC Engineering for Architecture
Tanja Morariu: Director of Brand Development; The Palms Hotel & Spa, Circa 39 Hotel
Cheryl Jacobs: Executive Vice President; AIA Miami
Madeleine Paredes: AVP, Marketing & Creative Services; GMCVB
Tony Brown: Director of Engineering, CHFE; InterContinental Miami
Flavia Tonioli: Sustainability Manager; Environment & Sustainability Department; City of Miami Beach
Pred Vaskrsich: Director of Engineering; Nobu Eden Roc
Elizabeth Wheaton: Environment & Sustainability Director; City of Miami Beach
WaterSense Hotel Challenge
We are very excited to announce that the GMBHA Sustainable Hospitality Council has partnered with the U.S. Environmental Protection Agency's (EPA's) WaterSense Hotel Challenge Platform to launch a local initiative for hoteliers, the GMBHA Water Pledge. This initiative aims to reduce water consumption resulting by saving water for future generations and reducing hotel's utility bill costs. Participating hotel will take a pledge to "ACT": Assess water use and savings opportunities, Change water-wasting products or processes, and Track water-saving progress and achievements.
American Hotel & Lodging Association (AHLA)
Our national partner, the AHLA, has generated a minimum set of guidelines for going Green. To learn more, please visit the AHLA website.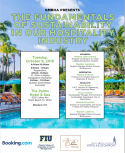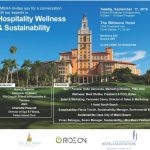 The Florida Green Lodging Program is a voluntary initiative of the Florida Department of Environmental Protection (DEP) that designates and recognizes lodging facilities that make a commitment to conserve and protect Florida's natural resources. The program's environmental guidelines allow the hospitality industry to evaluate its operations, set goals and take specific actions to continuously improve environmental performance. Learn more about Florida Green Lodging Program.
Apply now: http://www.dep.state.fl.us/greenlodging/apply.htm
Brian Lomel, PE, CxA, LEED-AP BD+C serves on the GMBHA Sustainability Committee and has over 20 years of consulting experience as a professional mechanical engineer in tropical climates.  He is a principal at TLC Engineering for Architecture, a 55+ year-old Florida Company, with 300+ employees including 80+ professional engineers and 90+ LEED accredited professionals.
Tropical Sustainability Tips
Miami-Dade is one of 3 counties in the continental US that is classified as Climate Zone1A (Tropical, humid).
What does that mean?  It means that many strategies for energy reduction and hotel operation that are beneficial in other parts of the country are NOT recommended for our climate.  While the temperature may feel similar to Southern California, by the numbers, San Diego is a Dry, Zone 3 environment. The International Energy Conservation Code (IECC) has classified and defined the Climate Zones throughout the United States as shown in this map.