Haiti Earthquake Relief Efforts
The GMBHA is very saddened by the earthquake that struck Haiti. We have reached out to County Mayor Daniella Levine's office, Dpt. of Emergency Management for Miami Dade County, City of Miami and Miami Beach. We will continue to update this page with more information and relief efforts.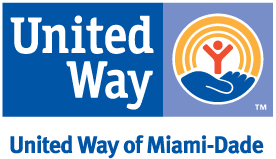 Operation Helping Hands: Haiti Relief Effort
United Way of Miami-Dade and Miami Herald/el Nuevo Herald have activated Operation Helping Hands to help the earthquake victims in Haiti. The earthquake, the worst in the region since 2010, has devastated the country and neighboring islands. Profound loss of life and significant damage have been reported.
To support and assist affected families with the short and long-term needs created by this unexpected tragedy, please make a donation below to Operation Helping Hands. 100% of funds raised through Operation Helping Hands will be used to purchase relief items and services needed in Haiti during this time of crisis. Monetary donations made to Operation Helping Hands will go directly to help the people of Haiti through non-profit organizations working on the ground.
Make a donation here.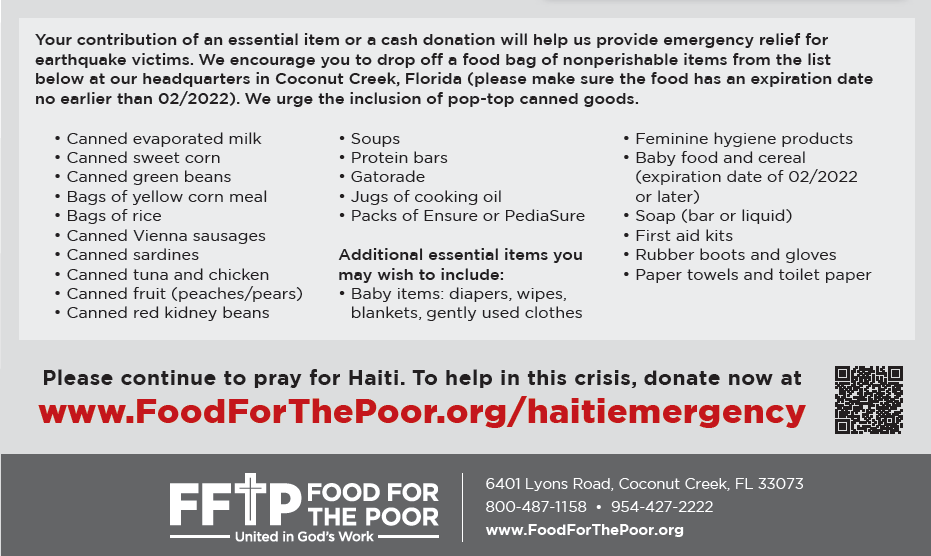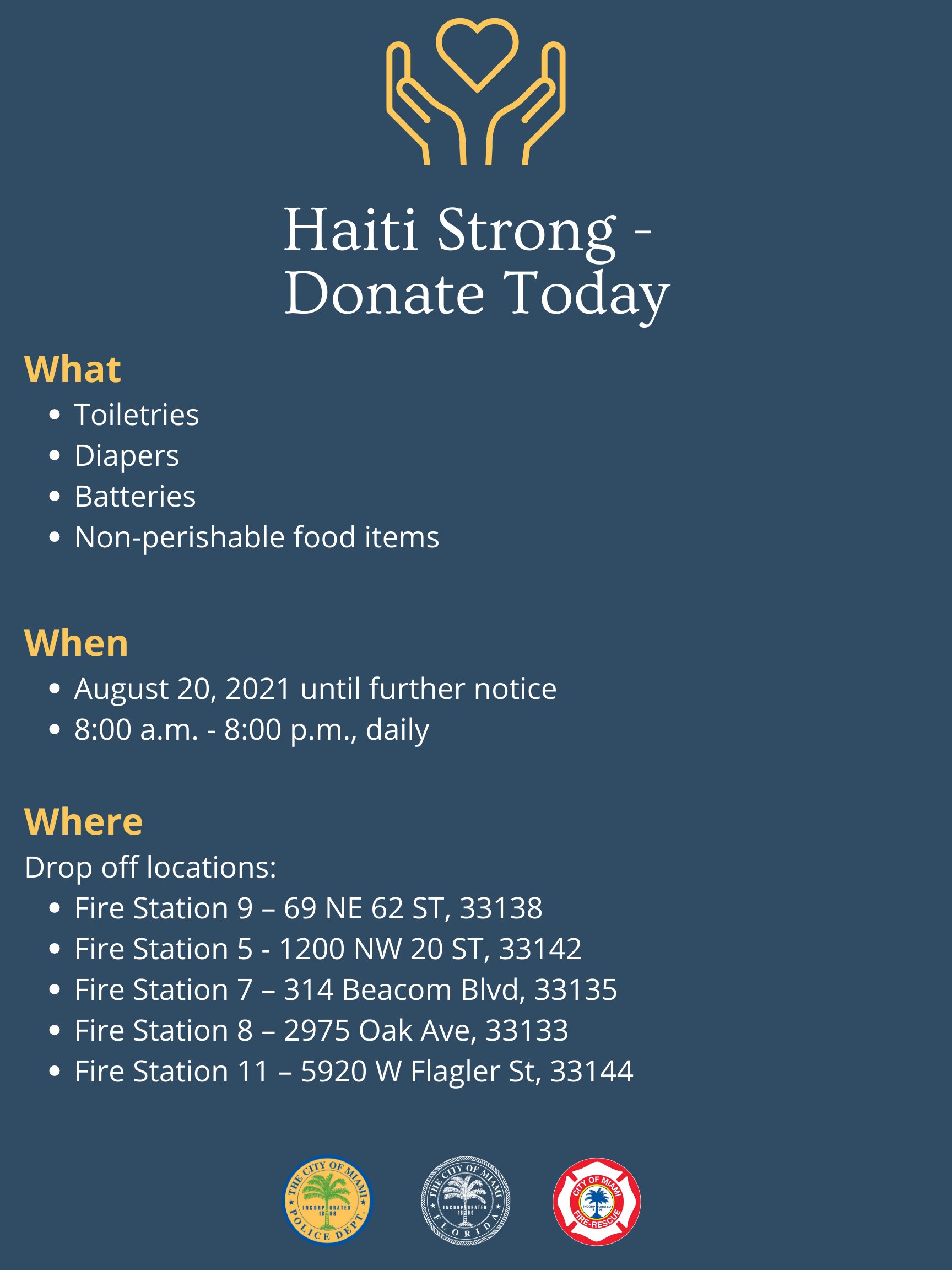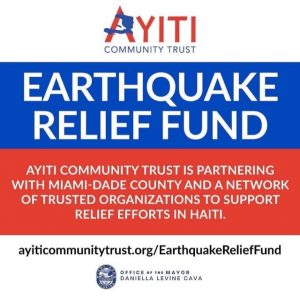 Ayiti Community Trust Earthquake Relief Fund
This fund has been launched to contribute towards earthquake relief in Ayiti (Haiti)
About the Fund
On August 14, 2021, a 7.2 magnitude earthquake struck the southern peninsula of Ayiti. We are closely monitoring the situation with community partners  on the ground. We encourage those who are interested in supporting relief efforts to make contributions to the Ayiti Community Trust's Earthquake Relief Fund.
Consistent with our mission, we will ensure that the contributions are channeled to local Haitian-led organizations in Ayiti. We thank you for standing in solidarity with the people of Ayiti at this very difficult time.
About Ayiti Community Trust
Ayiti Community Trust's (ACT) mission is to support and sustain development innovation in Ayiti in the areas of civic education, environment, and entrepreneurship. For more information on ACT, please visit www.AyitiCommuntyTrust.org
Organizations accepting donations
UNICEF: At least two cities were severely damaged by a magnitude 7.2 quake early Saturday morning, leaving people trapped in the rubble. UNICEF is working with partners to rush vital assistance to children and families in need. Click here to donate to UNICEF USA.
Catholic Relief Services: Catholic Relief Services carries out the commitment of the Bishops of the United States to assist the poor and vulnerable overseas. Catholic Relief Services is a 501(c)(3) non-profit organization. "When you give, you provide immediate assistance for our Haitian sisters and brothers desperate to survive this devastating situation. Your help will deliver immediate relief." Click here to donate.
Global Empowerment Mission: The organization works as a first responder for disaster relief, bridges the gap between first response and sustainable development, and implements practices to ensure sustainable development. Right now, they are focusing on the immediate response to global disasters and civic emergencies, such as the Haiti earthquake. Click here to donate.
Doctors Without Borders: Homes and infrastructure, including medical facilities, have been extensively destroyed and damaged in the affected region. Some hospitals had to evacuate their patients, and some lack medical equipment and medicines. Aftershocks and landslides have caused additional damage. Doctors Without Borders is here to help. Click here to learn more. Click here to donate.
CARE: Your donation to The Humanitarian Surge Fund allows CARE to maintain their Rapid Response Team. Experts in providing food, shelter, hygiene kits, and sexual and reproductive health assistance are ready to deploy at a moment's notice, wherever they're needed, such as Haiti. Click here to donate.
Convoy of Hope: Convoy of Hope, alongside partner Mission of Hope, plans to distribute an initial 1 million meals to those affected by the earthquake that struck Haiti. In addition to food, Convoy will also distribute hygiene kits and sheltering supplies. Thankfully, Convoy's in-country warehouse was not damaged by the quake, so distributions began immediately. Click here to learn more. Click here to donate.
Drive-by or drop-off material donations in South Florida
The Smile Trust Foundation: Organizers came together Sunday to form a collection site, gathering medical supplies, food, and many other items needed in Haiti. Those who wish to make donations can drop them off at 720 Northwest 55th Street in Miami, Florida. You may also give monetary donations to the foundation. Click here to donate.
Food For The Poor: Food For The Poor partners in Haiti are on the ground and are sending their urgent requests for aid. In South Florida, local residents and community groups can support the donation drive by bringing in food bags that contain these food items with an expiration date of February 2022 or later. You may also donate hygiene, baby, and other paper or first-aid items. Click here for more information. You may also give monetary donations to the foundation. Click here to donate.