GMBHA Coronavirus (COVID-19) Resources
The Greater Miami and the Beaches Hotel Association and the Greater Miami Convention & Visitors Bureau (GMCVB) are proud to support the hundreds of thousands of airline, cruise line and travel and tourism employees that are the lifeblood of Miami's hospitality industry and our economy. We are committed to getting the travel and hospitality industry help as quickly as possible.
Click here to view the GMCVB/GMBHA Hotel Pledge
Greater Miami Travel Information
If you are planning travel to Greater Miami, we ask that you do so responsibly and practice CDC safety guidelines.
Non-U.S. travelers who have recently visited Brazil, the United Kingdom, Ireland and 26 countries in Europe (the Schengen Area) may not enter the U.S. at this time.
The Federal Government requires that all travelers to the U.S. produce proof of a recent negative test for COVID-19 test prior to entry and within three days before their flights.
The CDC is also recommending periods of self-quarantine or self-isolation after entry into the United States and that travelers get tested 3-5 days after travel.
For the most up-to-date information on travel restrictions, please check with the US Department of State and the CDC Guidance for Travel as guidelines and restrictions continue to evolve.
Miami-Dade County is coordinating closely with hospital and healthcare partners, the Florida Department of Health, municipalities, and private partners including CVS and Walgreens to vaccinate members of our community against the coronavirus (COVID-19) as quickly and efficiently as possible.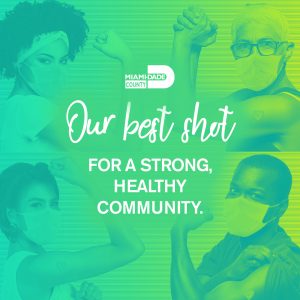 Where can I get vaccinated?
Miami-Dade County
Miami-Dade will be opening a limited number of COVID-19 vaccine appointments for seniors 65+ starting Friday, January 8 at 4 p.m., according to state vaccine guidelines. Check here for an available appointment.
Miami-Dade County is working in partnership with Baptist Health South Florida and the Florida Department of Health in Miami-Dade to make additional vaccination sites available through the County's scheduling tool. All vaccination sites are by appointment only and walk-ups will not be accepted.
Miami-Dade Public Libraries provide internet and computer access for any members of the community not able to access the website from home.
Jackson Health System
Jackson Health System (JHS) offers an online platform for Miami-Dade County residents age 65 or older to request a vaccination appointment. If you are unable to schedule an appointment, please return to their page routinely for ongoing updates as they receive additional vaccines.
Homebound Seniors in County Public Facilities
Miami-Dade County will provide vaccines directly to homebound seniors age 65 and older who live in County facilities or receive County services and wish to be vaccinated.
Miami-Dade County staff are directly contacting these individuals to schedule vaccinations beginning Monday, January 4.
Mount Sinai Medical Center
Mount Sinai Medical Center is providing vaccines to Miami-Dade County first responders and individuals who are 75 years or older.
Call 305-674-2312 to schedule an appointment, Monday through Friday from 8 a.m. to 5 p.m. and Saturday through Sunday from 8 a.m. to 1 p.m.
No walk-ins will be accepted
For more information, visit the Mount Sinai Medical Center website
Hard Rock Stadium
Beginning Friday, January 8 at 8 a.m., registration will open for appointments at the Miami Hard Rock Stadium vaccination site. As there is still limited supply available from the federal government, there are currently 1,000 appointments available per day, over the next seven days.
To register, please call the following number: 1-888-499-0840
TTY #: 1-888-256-8918
Walk-ins will not be accepted. If you do not have an appointment, please do not show up to a vaccination site. We understand demand for the vaccine is high, and we are doing everything possible to provide additional appointments pending more vaccine being allocated by the federal government.
Additional registration options will be available in the coming days.
General Information Sites