Dear GMBHA Members and Partners,
We hosted our 5th Annual "Celebrating our Hotels" Presentation & Reception at the beautiful EAST, Miami on Tuesday, June 27th. What a magnificent view with 140 in attendance in The Crush ballroom on the 39th floor!
Special thanks to our EAST, Miami team Andres Garcia, General Manager; Brad Sundock, Strategic Director of Sales & Revenue and Kayla Rodriguez, Director of Meeting & Events and EAST, Miami team for hosting our event.
We are very grateful to our Event sponsor GMCVB's President & CEO David Whitaker; Rolando Aedo, Chief Operating Officer and the amazing team for their ongoing support. We also celebrated with our Forbes Travel Guide partners Lourdes Hainlin and Jonathan Meyer, Director, Service Excellence, Celebrity Cruises and want to congratulate again our 2023 Forbes Travel Guide Hotels with a toast together with everyone.
Special thanks to our hotel presenters
Ken Dyens, Senior Sales Manager, Sales & Marketing, Novotel Miami Brickell
Roxana Medina, Director of Sales & Marketing, Carillon Miami Wellness Resort
Julissa Kepner, General Manager, Miami Marriott Biscayne Bay
Michael Boulanger, Director of Group Sales, Hotel AKA Brickell
In closing, we are super excited to share together with you an amazing opportunity below David Whitaker and his team have created for you. Please share with your colleagues.
Wendy Kallergis
President & CEO
GMBHA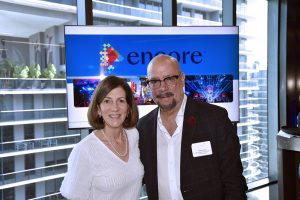 Hello Everyone,
Thank you again for attending the Greater Miami and The Beaches Hotel Association hotel celebration on Tuesday. We at the GMCVB are of course proud sponsors and Wendy and team know they (and you) have our full support.
As promised, I wanted to forward along to you the "tool kit" that is evolving that we have prepared with regard to educating, informing and quite frankly inspiring our work to continue to help make Greater Miami & Miami Beach one of, if not the most welcoming and inclusive destinations in the United States.
Below is the link. Feel free to reach out to us if we can continue to assist you in any way.
https://www.miamiandbeaches.com/about-gmcvb/diversity-equity-and-inclusion
David Whitaker
President & CEO
GMCVB