Dear GMBHA Members & Partners,
WOW! What an exciting month to celebrate Women's history and especially our amazing women here in Miami Dade.
Every year we celebrate International Woman's Day at the Doubletree MACC on March 8th, an event that is always sold out with hundreds of guests. Congratulations to the 2022 Awardees:
Wendy Conforme, Chief Operations Officer, PortMiami Tunnel
Paola Pierre, Immediate Past Chairwoman, Haitian American Chamber of Commerce of Florida
Christine Richard, Senior Director of Marketing, Amerijet International Airlines
Lynare Robbins, Director, Miami Chapter, Global Chamber
Raquel Rodriguez, Chair, Florida Offices, Buchanan Ingersoll & Rooney PC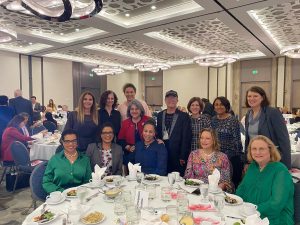 We are super delighted to congratulate our GMBHA Board of Director, friend and colleague Hydi Webb on her promotion to PortMiami Director.
Another WOW!
One of our favorite events of the year is Miami Dade College's Miami Culinary Institute's Chef Coat Ceremony. What a better way to start the program with a brand new pressed chef coat with insignia.
Congratulations to all of our culinary students as they begin their exciting culinary education and career here in Miami.
We will continue the celebration of our Women General Managers in April and May with live events and hope you can join us.
For membership and sponsorship info, please reach out Faheemah Garzon, Membership Events and Marketing Manager at faheemah@gmbha.com.
Save the date for our upcoming Annual Inn Key Awards Luncheon on Monday, June 6th at Hilton Miami Downtown!
Wendy Kallergis
President & CEO
Greater Miami and
The Beaches Hotel Association
Click here to view March 2022 Newsletter