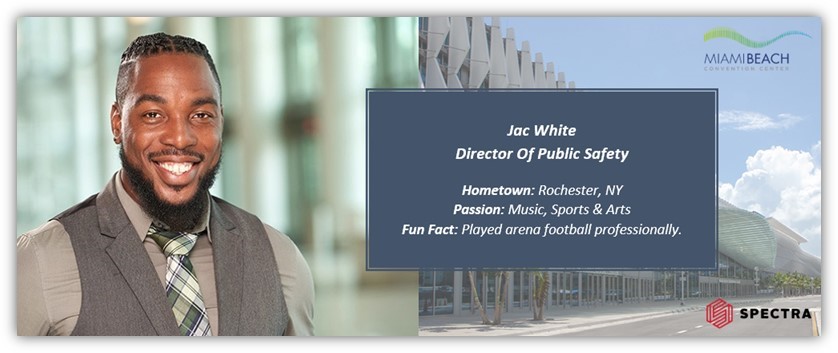 MIAMI BEACH CONVENTION CENTER PROMOTES
JAC WHITE
AS DIRECTOR OF PUBLIC SAFETY
MIAMI BEACH, FL – (July 28, 2021) – The Miami Beach Convention Center (MBCC), a Spectra-managed venue, is proud to announce the promotion of Jac White to the new Director of Public Safety for the re-imagined, renovated, and expanded venue.
White is an experienced safety, security and transportation manager who will uphold the MBCC's chief priority - the highest degree of safety and security in and around the venue.  With an added focus on delivering excellence in customer service, in his new role White will also continue to build strong relationships internally and externally.
"I am thrilled and honored by the opportunity to take the reins and really bring all aspects of safety, security and transportation to the forefront in all that we do," White said. "As we build upon our past experiences and successes, I look forward to leading the MBCC in these areas."
The Director of Public Safety is responsible for ensuring the highest quality and standards in all aspects of safety and security while working closely with customers, contract partners and the first responder community. White will have direct management and oversight of all aspects of the MBCC Public Safety Department, which includes safety, security, loading docks, and transportation.
"We, especially yours truly, are very excited and enthused in promoting Jac into this role," Freddie Peterson, Spectra's General Manager of the MBCC, said. "His versatility, experience, management style and commitment to excellence will continue to elevate our teams, this beautiful venue and contract partners to new heights."
###
About MBCC
The Miami Beach Convention Center (MBCC) is the centerpiece to Miami Beach's meetings, conventions and tradeshow industry. Re-imagined following a $620-million-dollar renovation, the expanded MBCC includes a new 60,000 square-foot Grand Ballroom, almost 500,000 sq. ft. of exhibition space, an expanded Grand Lobby, pre-function areas that are bathed in natural light, up to 84 breakout rooms, approximately 800 roof deck parking spaces, almost 2,100 miles of cabling to support all IT communications, $7.1 million dollars' worth of art curated by the City of Miami Beach Art in Public Places program, a new six-acre and three-acre public green spaces that can serve as incremental event space, and much, much more.
For general information, visit www.miamibeachconventioncenter.com or call 786-276-2600.
About Spectra
Spectra is an industry leader in hosting and entertainment, partnering with clients to create memorable experiences for millions of visitors every year. Spectra's unmatched blend of integrated services delivers incremental value for clients through several primary areas of expertise: Venue Management, Food Services & Hospitality, and Partnerships. Learn more at SpectraExperiences.com.
CONTACT:
Freddie Peterson, General Manager
Miami Beach Convention Center, Spectra Venue Management
M: 786.390.4766