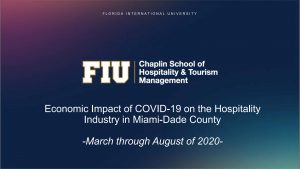 Miami-Dade County's hospitality industry recovering but facing more than $3 billion in losses this year
FIU/GMCVB study says consumer confidence and government policy and support are critical to the industry's future
MIAMI (Oct. 21, 2020) – Miami-Dade County hotel and restaurants – the two largest hospitality industries in South Florida – have taken a $3.36 billion dollar hit from COVID-19, according to a new study.
The study released today by Florida International University's FIU Chaplin School of Hospitality & Tourism Management, in collaboration with the Greater Miami Convention and Visitor's Bureau (GMCVB), shows that from the time mandatory COVID-19-related business closures took effect in March until the end of August, the direct and indirect effects of the pandemic – including revenue loss, supply chain and business expenditures, operating expenses and the ripple effect of furloughed workers not spending on the local economy — resulted in the multi-billion-dollar loss.
According to the study, the pandemic is responsible for $1.3 billion in direct revenue loss to hotels and $742 million in direct revenue loss to restaurants, when comparing March through August 2019 with the same time period in 2020. Hotels and restaurants lost another $664.7 million in indirect spending from a reduction in expenditures such as raw materials, supplies and other operating expenses, plus another $651.8 million in induced losses as a result of the ripple effect of furloughed workers not spending on the local economy.
"As hospitality educators, we needed to find out exactly how the pandemic affected our community and who has been the hardest hit," said Eric Beckman, revenue management professor at the Chaplin School of Hospitality & Tourism Management and lead author of the study. "South Florida's economy has a high reliance on the hospitality and travel-related business and our study shows if those sectors are down, it results in huge financial losses and an economic decline for the entire community."
Beckman and his colleagues made their findings by looking at tax revenue data from the county, as well as hotel room revenue data from companies such as STR, CBRE, Lee Pillsbury of Thayer Ventures, Adara and Kalibri Labs.
In January, hospitality employment was up 2.4 percent compared to January 2019. That positive trend continued into February before plummeting in April to a 45.4 percent decline. The latest data for August 2020 shows a decrease of 23.7 percent in hospitality jobs compared to August 2019. The study also found that COVID-19 can be blamed for $1.2 billion dollars in loss of employee income to Miami-Dade County hotel and restaurant workers from March through August.
"As the entire country faced mandatory closures, there was a drastic reduction in hospitality jobs in the county," said Michael Cheng, dean of the Chaplin School and one of the study's co-authors. "As we move towards operating without restrictions. the hospitality industry will begin to move towards prior levels of employment and growth."
Although focused on hotels and restaurants, the study also looked at the state and federal tax impact and the decline in travel via Miami International Airport. The reduction in hotel and restaurant sector revenue in the county resulted in more than $260 million dollars in federal tax losses. From March through August of 2020 compared to 2019, there was an 87.2% decrease in international arrivals and 71.8 % decrease in domestic arrivals.
The study goes on to list future challenges to the industry, such as future COVID-19 outbreaks, effectiveness of a vaccine, consumer ability to travel, consumer confidence and the importance of government policy and support. The authors say government policy and support, such as this summer's Payroll Protection Program (PPP), will be crucial to the existence of many businesses that have managed to re-open their doors and survive until now.
"The hospitality industry is a resilient industry filled with ambitious entrepreneurs and people who know how to transfer their skills," Beckman said. "That, combined with the fact that we know people love to travel and eat out, will result in the resurgence of travel and tourism in Miami-Dade County."
To view the study's PowerPoint presentation, click here.